Sacramento County Employees' Retirement System redesigns website to better serve Sacramento's public servants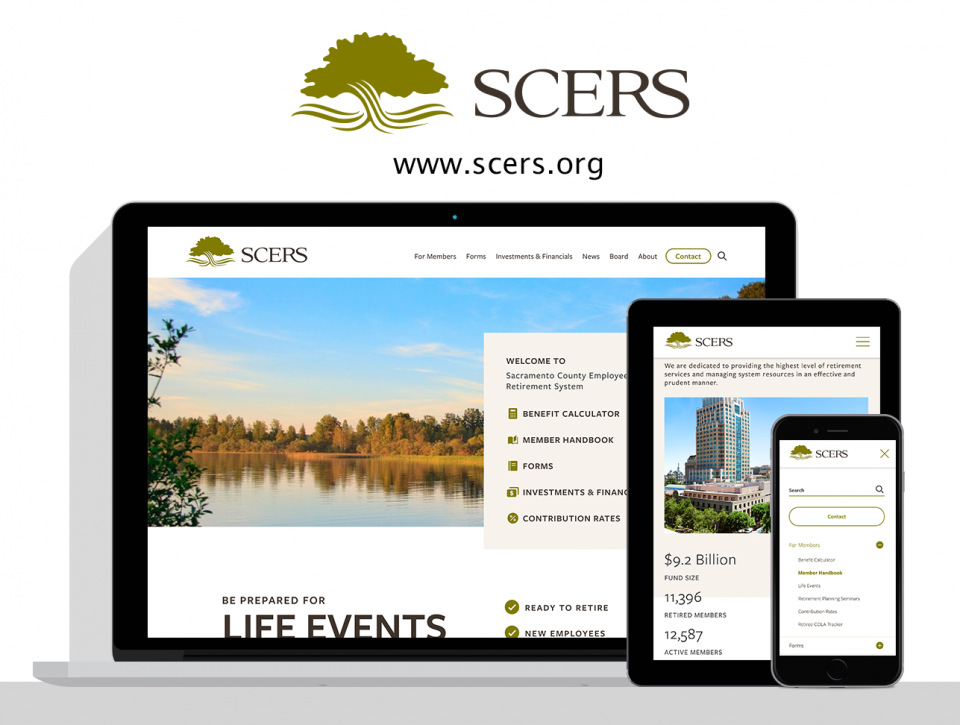 Founded in 1941, the Sacramento County Employees' Retirement System (SCERS) is a defined benefit retirement system dedicated to ensuring Sacramento's public servants have access to financial security and an opportunity to achieve their retirement goals.
We've worked with pension systems across the country, but it isn't often that you have the opportunity to build something that impacts so many members of your own community. When we learned we'd be working with their team on this project, we were beyond excited.
The Challenge
As an organization, SCERS is extremely customer-focused. However, the constraints of their old site were not letting this shine through. Though resource-rich, the old site was text-heavy and hard to follow, which was defeating their efforts.
SCERS needed a tool that could reflect their customer service mission and their commitment to our County's public servants.
The Transformation
SCERS was a fantastic partner throughout the entire redesign. Here are a few things that really stood out about this project:
Introducing modern, customer-centric design - Navigating SCERS new homepage is a delight. Visitors are instantly greeted with curated imagery of the county as they are welcomed to the site. The open layout of the page allows visitors to instantly identify top visitor quick links, manage a life event, discover latest updates, or simply learn more about the fund.
Information architecture and content strategy - We worked carefully with their team to revamp the information architecture so members to quickly find key forms and resources without having to reach out for assistance.
Creating an outstanding mobile experience – It was key that we deliver an outstanding experience on every device. With the new website, we've now made it easy for members to research their pension in the office, at home, or on the go.
Setting the stage for future modernizations - The new website is just the first of a number of modernization initiatives that SCERS is embarking upon. By partnering with SCERS' other vendors and listening to their needs throughout the design process, we were able to deliver key assets that SCERS can use to maintain a unified user experience in each of their future projects.
We're so proud of what we were able to accomplish together with SCERS' team and are excited to watch how the new design will affect their members.
Let's work together
If you have a project with similar needs, let us know. We'd love to learn more about it and walk you through a free demo or consultation.